I'm back! Already!
Here's a brief overview of what I've done since my
last blog post
, yesterday evening:
Read The Love of Her Life
Read The Love of Her Life
Read The Love of Her Life
Watch Netflix
Go to bed
Wake up
Read The Love of Her Life
Read The Love of Her Life
Brew coffee.
Read The Love of Her Life while drinking coffee
Read The Love of Her Life
Read The Love of Her Life
I promise you that I'm not exaggerating one bit. The only thing I left out is how many times I've had to blow my nose because I'm sick (ewwww!). This book was
that
addicting.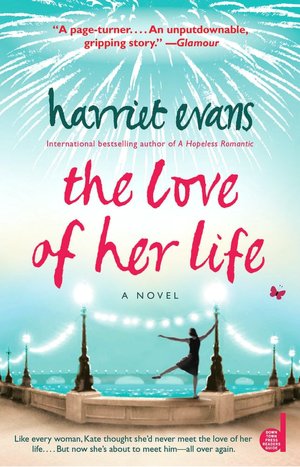 Here's the summary, courtesy of
Goodreads
:
In London, Kate Miller had an enviable life: an exciting job at a fashion magazine, an engagement and a wedding to plan. Then it all fell apart -- spectacularly, painfully, and forever. That was three years ago...and she fled to New York City to live with her mother and stepfather.
Now Kate is a true New Yorker, in love with the pace and rhythm of Manhattan. But deep down, she knows her life is in a holding pattern, that there is something -- someone -- more to love. But when her father becomes ill, Kate realizes it's time to return and face the friends and the memories she left behind. What really happened before Kate left London? Can she pick up the pieces and allow herself to love life again?
This book has been on my bookshelf for a couple of years now. I remember seeing it on my bookshelf in my parent's house when I was in college. I didn't recognize it, but it had a B&N clearance sticker on it, so I assumed I had purchased it at some point and forgotten about it.
I kept picking this book up, reading the back cover, and putting it back on the shelf. Why? Have you read the summary? This sounds like any other generic chick-lit novel. And it has a super corny title.
So, you're probably wondering why I picked it up. After all, I'd thought numerous times about just getting rid of it, assuming I wouldn't like it. Well, on Goodreads, I have a shelf called "tbr-bookshelf". Those are the (currently 173) books, e-books, and audiobooks I own but have not yet read. When I'm unsure what I'd like to read next, I go to that bookshelf, close my eyes, and scroll up and down multiple times. I stop scrolling, then open my eyes. Whichever book my mouse cursor is on is the next book I pick up. I've found that it stops me from avoiding the same books forever (including this one) and diversifies what I choose to read. Corny, I know, but it works!
Anyway, I picked this book up on February 28th. I was only 24 pages into it and wanted to get rid of it. There was a confusing web spun and I was too impatient to want to read the next 375 pages to figure out what was going on. However, I promised myself I would give it until page 100, to give it a fair chance. I'm so glad I did.
The start to this novel was super slow and confusing. The reader finds out Kate, the main character, ran away from London to New York for some reason, but we really aren't sure why. We're following Kate around her first few days back in London, as her father has fallen ill. We don't understand her background or why she is as uncomfortable being in London as she is.
Finally, we get some insight. And that's when the novel really picks up. I found it so hard to put down, even to eat! On the front cover, Glamour magazine promises this book to be "A page-turner...An unputdownable, gripping story". And they weren't lying.
Seriously, anyone who loves chick-lit needs to pick up this novel! Ms. Evans, I will definitely be reading the rest of your works!
Here's my stats:
The Love of Her Life
by Harriet Evans
Rating: 4/5
Pages: 427
2012 Reading Goal: 4,735/15,000
This was one of those novels that was so good, I now have a hole in my heart from finishing it. I guess I'm just going to have to scroll through my virtual bookshelf to find my next read!
Happy Saturday reading, everyone! :)