Hello, readers!
I feel as though it's been
ages
since my last post, even though it's only been about two weeks. What a busy two weeks! I've been traveling around Montana and North Dakota for work--listening to audiobooks and encouraging teenagers to consider higher education. I also took my GMAT this past weekend, and am hoping to complete my grad school application soon!
I was able to squeeze in some reading time (actual reading, not just listening to my audiobooks :P). I finally completed
Reading Lolita in Tehran
by Azar Nafisi, which I started reading at the beginning of September. Just a
little
behind....
I'm sure you've all seen the novel displayed throughout Barnes & Noble's Recommended Reading section. Perhaps it's on your recommended reading on Amazon, too. Although published back in 2003, this book is
everywhere
. I received a copy from my best friend, Jessie Mae, who suggested I read it. She couldn't get through it herself, but thought maybe it would interest me. It
did
interest me; I would pick it up and read the back cover at every bookstore I went to. I put it toward the top of my TBR list. Jessie Mae gave me her copy in May, and I even got around to reading it
this year
!
For those of you who have not obsessively read the back cover thousands of times, here is the
Goodreads
summary: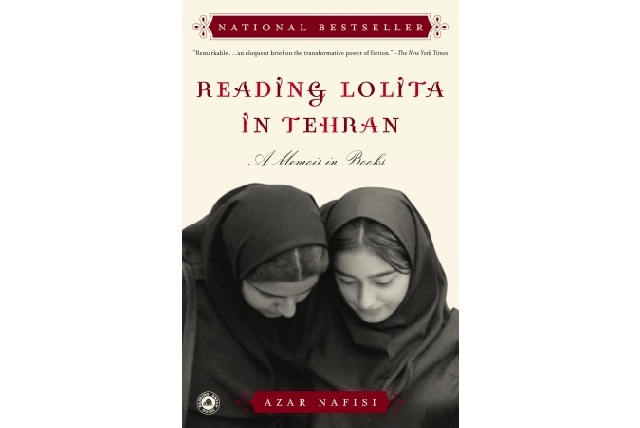 Every Thursday morning for two years in the Islamic Republic of Iran, a bold and inspired teacher named Azar Nafisi secretly gathered seven of her most committed female students to read forbidden Western classics. As Islamic morality squads staged arbitrary raids in Tehran, fundamentalists seized hold of the universities, and a blind censor stifled artistic expression, the girls in Azar Nafisi's living room risked removing their veils and immersed themselves in the worlds of Jane Austen, F. Scott Fitzgerald, Henry James, and Vladimir Nabokov. In this extraordinary memoir, their stories become intertwined with the ones they are reading. Reading Lolita in Tehran is a remarkable exploration of resilience in the face of tyranny and a celebration of the liberating power of literature.
Reading Lolita in Tehran could be a really excellent novel. It's got the foundation for greatness--great characters, great story line, great perspectives. But there's something lacking: it's written so blandly. Like a textbook. There's a reason it took me over a month to get through. It's obvious to the reader that Nafisi is a highly intelligent woman with a passion for teaching and an extensive educational background. The largest issue with this book is that it reads like a textbook: factual, omnipotent, unemotional.
I also felt as though I was unprepared for a lecture in my college English class: I have only read one of the four novels Nafisi discusses. The novels, put under scrutiny by a true professor, were dissected and analyzed so much that I'm not even sure if they're worth reading now. I feel as though I listed to the lectures for the novels before having read them, which has spoiled the endings for me.
The events outside of the novels in Iran and the girls' lives are fascinating, but again told too factually. I would have loved for Nafisi to reveal more laws she thought preposterous and detail how other women felt about them, too.
Overall, I recommend this book for those of you obsessively picking it up in bookstores time and time again. Or, for those of you who enjoy reading textbooks.
Here are my numbers for this book:
Reading Lolita in Tehran by Azar Nafisi
Rating: 3/5
Pages: 347
2011 Reading Goal: 9,779/12,500 (78% there!)
I had the flu all week (already, yuck!) and am just now getting over it--mostly. So I will bid you adieu to enjoy more chamomile tea, a good book, and a good nights rest.
Have a lovely Friday :)