Hello again, readers!
I hope this finds you well on a lovely, drizzly Saturday. I actually think it's done being drizzly and rainy here, but that's my excuse today for staying indoors and reading all day, so humor me.
I've mentioned in previous posts the Goodreads First Reads program. This is a giveaway program where authors or publishers list books to give away--free, of course-- to readers. They encourage a review of the novel, but it's not required. The first book I won in the First Reads program, back in August, was William Todd Schultz's
An Emergency in Slow Motion
. It did not arrive until the middle of September, but I've been excited to burn through it ever since August. So now, for you lucky readers, here is my review:
Summary of
An Emergency in Slow Motion
, courtesy of
Goodreads
:
Diane Arbus was one of the most brilliant and revered photographers in the history of American art. Her portraits, in stark black and white, seemed to reveal the psychological truths of their subjects. But after she committed suicide in 1971, at the age of forty-eight, the presumed chaos and darkness of her own inner life became, for many viewers, inextricable from her work.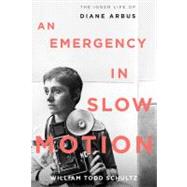 In the spirit of Janet Malcolm's classic examination of Sylvia Plath, The Silent Woman, William Todd Schultz's An Emergency in Slow Motion reveals the creative and personal struggles of Diane Arbus. Schultz veers from traditional biography to interpret Arbus's life through the prism of four central mysteries: her outcast affinity, her sexuality, the secrets she kept and shared, and her suicide. He seeks not to diagnose Arbus, but to discern some of the private motives behind her public works and acts. In this approach, Schultz not only goes deeper into Arbus's life than any previous writer, but provides a template with which to think about the creative life in general.

Schultz's careful analysis is informed, in part, by the recent release of some of Arbus's writing and work by her estate, as well as by interviews with Arbus's psychotherapist. An Emergency in Slow Motion combines new revelations and breathtaking insights into a must-read psychobiography about a monumental artist-the first new look at Arbus in twenty-five years.
Before I get started, I have some confessions to make:
I had never heard of Diane Arbus before reading this novel

I'd also never heard of a psychobiography

To research Diane Arbus prior to reading this novel, I looked her up on Wikipedia. This was the extent of my knowledge of her
I was highly impressed with this novel. In spite of never having heard of Diane Arbus before reading this novel, I was sucked into the history and knowledge Schultz divulged. I was fascinated to read of her art, relationships, and emotional trauma. Not only does Schultz investigate, factually, what would have caused Arbus to lead down the path of suicide, but he also analyzes how her actions may have been a result of her emotional dysfunction. I was concerned An Emergency in Slow Motion would read like a textbook, but I found it to be fast-paced and highly intriguing.
I highly recommend this book for anyone interested in Diane Arbus' life, Sylvia Plath, or other emotionally struggling artists. It's likely I'll pick up another psychobiography written by William Todd Schultz.
Now for the numbers:
An Emergency in Slow Motion by William Todd Schultz
Rating: 4/5
Pages: 219
2011 Reading Goal: 9,998/12,500
I hope you all have a wonderful rest of your Saturday! I'll be blogging again soon! :)
FTC Disclosure: I received a copy of this novel from the author or publisher in exchange for an honest review.