Hi, readers!
I hope you're all having a wonderful Sunday! Mine will be wonderfully lazy--I just submitted my final paper for my class! What a relief! I still have a test to take, but it isn't due until Thursday, so I'll give my mind a day or two of rest.
In the meantime, I'm hoping to catch up on some book reviews--I'm not sure how I got so far behind!
A couple of weeks ago I read my first Julie Garwood novel,
Fire and Ice
. Here's the summary, courtesy of
Goodreads
: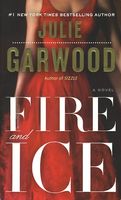 Sophie Rose is a crime reporter at a major Chicago newspaper and the daughter of Bobby Rose, a charming gentleman and big-time thief. When asked to write an exposé about her notorious father, Sophie quits and goes to work at a small newspaper, covering local personalities such as William Harrington, the 5K runner whose trademark is red socks. Those socks—with Sophie's business card tucked inside—are practically all that's found after Harrington is killed near Prudhoe Bay, Alaska, seemingly in a brutal polar bear attack.

Sophie heads north to investigate, but danger follows in her wake. After one attempt on her life, she's assigned brash but sexy Jack MacAlister as a bodyguard. But Sophie and Jack will soon be fighting more than their growing passion for each other. Powerful forces will stop at nothing to prevent the exposure of the sinister conspiracy Sophie and Jack are about to uncover.
I was pretty impressed with this novel, considering I hadn't really heard much about Julie Garwood as an author. The characters were extremely likeable, albeit stupid at times, and I definitely found myself rooting for Sophie and in love with Jack MacAlister. The novel was very fast-paced, and I was able to get through it in no time. I was pretty addicted, too--thinking about it all the time, wondering what happens next. That's the mark of a good, intense thriller. I highly recommend this to anyone looking for a good thriller with a hint of romance. Julie Garwood, I will definitely be picking up more of your novels in the future!
And here's where this book has gotten me to date:
Fire and Ice by Julie Garwood
Rating: 4/5
Pages: 375
2012 Reading Goal: 8,044/15,000
Happy reading! :)